If you've not caught on from the past few blogs, suffice it to say, I love flowers. However, appreciating and keeping a garden are two different spectrums. Largely because of the maintenance involved. Following in the footsteps of my eldest sister, I too have two black thumbs–seriously, "Death comes on swift wings" when I'm involved in the gardening process. So, for now, I am content to leave growth to those who are more akin to the Jolly Green Giant. Speaking of, I need to water my vegetables. It's been a week. Case in point.
My parents both have green thumbs (thinking it skipped a generation). For as long as I can remember, the yard of every house we have lived in has been full of various vegetable gardens and flower beds. The best flowers were the ones that brought the birds. My Dad always loved having birds, especially hummingbirds, around. He'd put up feeders and let us know when they were stopping by for a visit. When he was unable to go hiking because of how much his cancer had weakened him, he'd spend countless hours sitting outside.
The majority of the flower photos below were shot in my parents' backyard. The photo below in particular will always stay with me as a favorite. I read a chapter 13 years ago (wow, 13 years) in The Digital Photography Book by Scott Kelby called, "Shooting Flowers Like a Pro." Kelby noted the most common angle we see flowers from is looking down at them. One suggestion that took root was to shoot them from a different angle, get your knees dirty. Game changer. I always feel like I've done something right during shoots if I have to brush bits of grass, dirt, and or sand off of me. Thanks Scott!
Back to my dad. On one of his good days, we were watching a hummingbird that kept frequenting my mom's Dahlias. I had my camera out with my 70-200mm lens on it from shooting flowers earlier. Slowing my shutter speed enough that the movement of the hummingbirds' wings would be blurred with the flower in focus, I captured this: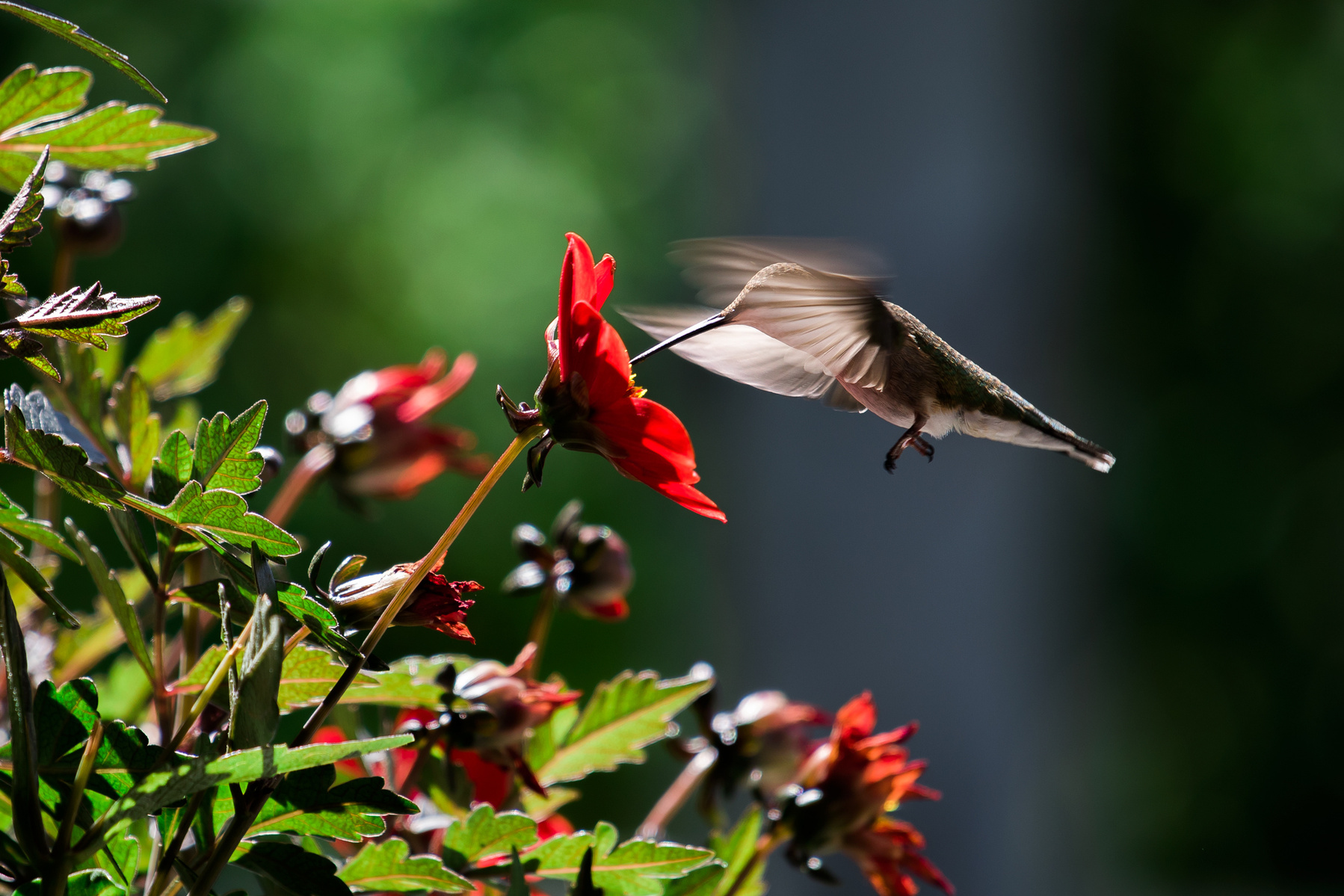 Then a plan formed. I emailed the printer I work with who printed the photo and sent it express. Dad had stopped his treatments and we knew there would be a time when he wouldn't be able to move. Mom hung the print across from the bed where he could see it every day. Bringing the outdoors to him was the last gift I gave my Dad.

Well, now I'm crying. How am I supposed to do a funny closing line when I'm crying? Maybe this is one of those times where I have to let it go or grow.
Enjoy every Funking-minute!
Dear Reader, that catchy closing line is under construction as a Funking-minute isn't actually a unit of measurement for the passing of life or it may endure the test of time, stay tuned, dun dun dun