I'm melting–full on Wicked Witch of the West style; but, in a bikini top and sarong. Not tights, cape and pointy hat. Even a whisper of wind would make all the difference in the world. You know, this humidity and stillness reminds me of the weather in Tahiti. And I still need to tell you about my first week onboard Kaimana. It was full of channels, kites, motus (small islands), remembering how to scuba dive (trial by buoyancy compensation device (BCD)), and lots and lots of sharks - let's dive in (my puns are worse than Dad-jokes).
What I enjoyed so much about sailing with Melissa and Scott was that it was equal parts planning and spontaneity. Decide where to go based on the weather and then go with the flow from there (another pun, you're welcome). Over the seasons, Melissa and Scott had made friends with other people traveling the area. It's essential to do that as friends are sometimes all you have when "you know what" hits the fan or for a sanity check because boats are small and the ocean can be gloriously isolating. Anyway, we decided to go with friends to an area they frequented for kiting because the winds were good for it.
Before we got to the kiting area, we stopped at a motu with an opportunity for diving! A drift dive to be more specific. I honestly don't remember how we got from Point A to Point B during the drift along the channel's edge but that detail can be lost in the current. What I do remember is a dock that we passed along the way teeming with life. Immediately entering "gorgeous photo here waiting to happen" mode I forced myself to breathe a bit and rein it in. Gathering all my spastic ducks, I put them in a row, and got to work.
After all the fish, we made one more stop before the kiting zone. Thinking their boat cats Tiger-Parrot and Cali-Ravioli could use a chance to stretch their legs, Melissa, Celine and I decided to take them for a land excursion. The only other things on the island with us and the cats were crabs (I feel like there's an STD joke in there somewhere but for your sake I'll stop that train of thought). We explored for a bit then located Tiger-Parrot; but, Cali-Ravioli required patience to retrieve her. Before a coconut crab could take off with fresh cat dinner, we found Cali-Ravioli and zipped back to Kaimana.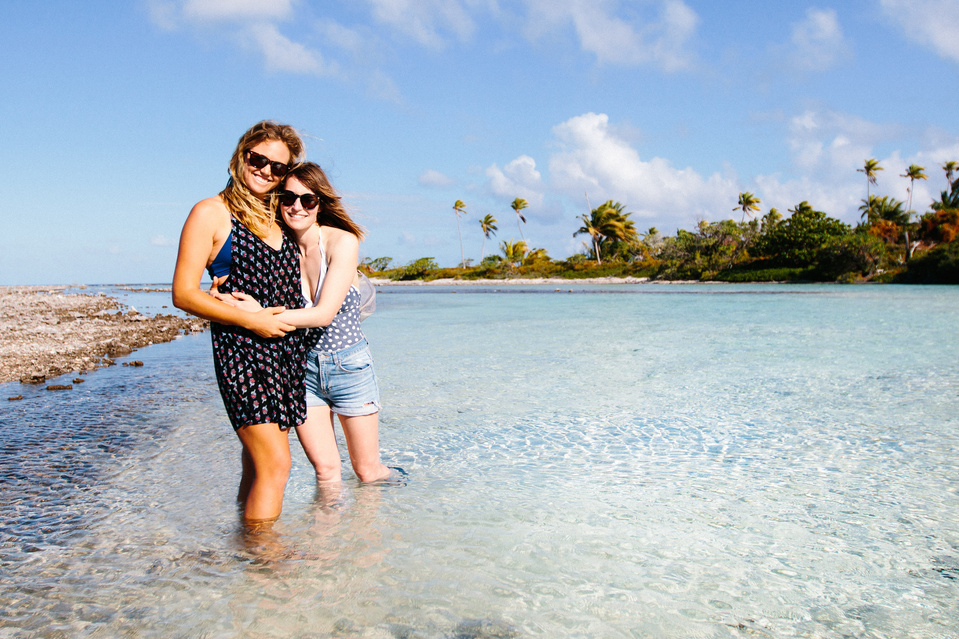 Next stop, kiting. We met the other boats over entirely new terrain–shallow sand with random coral heads. Early that first morning before the winds picked-up, Tam, one of Scott and Melissa's friends, asked me to shoot her swimming under her boat that she'd just finished making seaworthy again. I love being able to give people memories and was thrilled she asked. The rest of the days there were filled with kiting, fishing, and diving.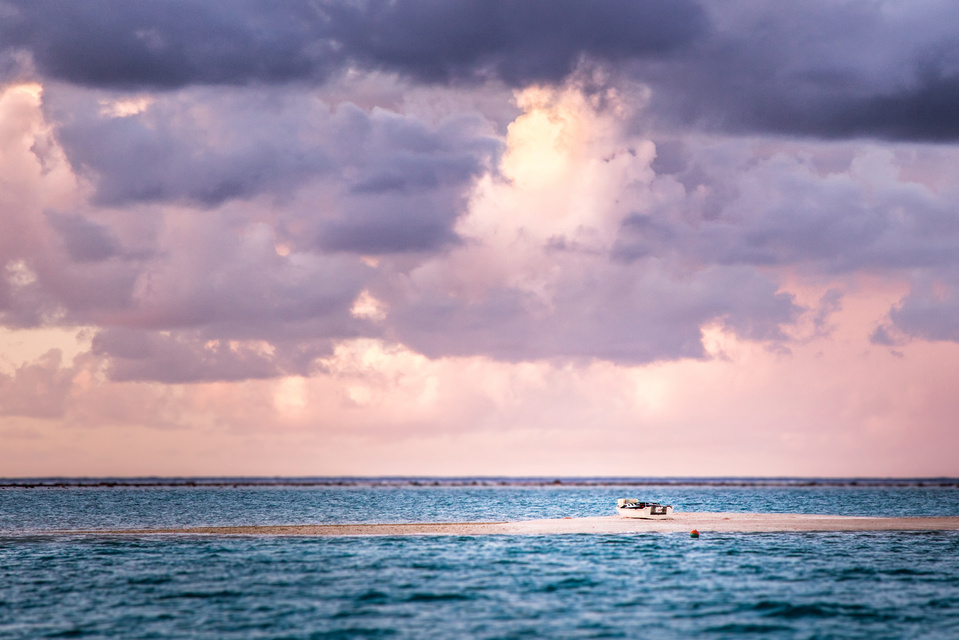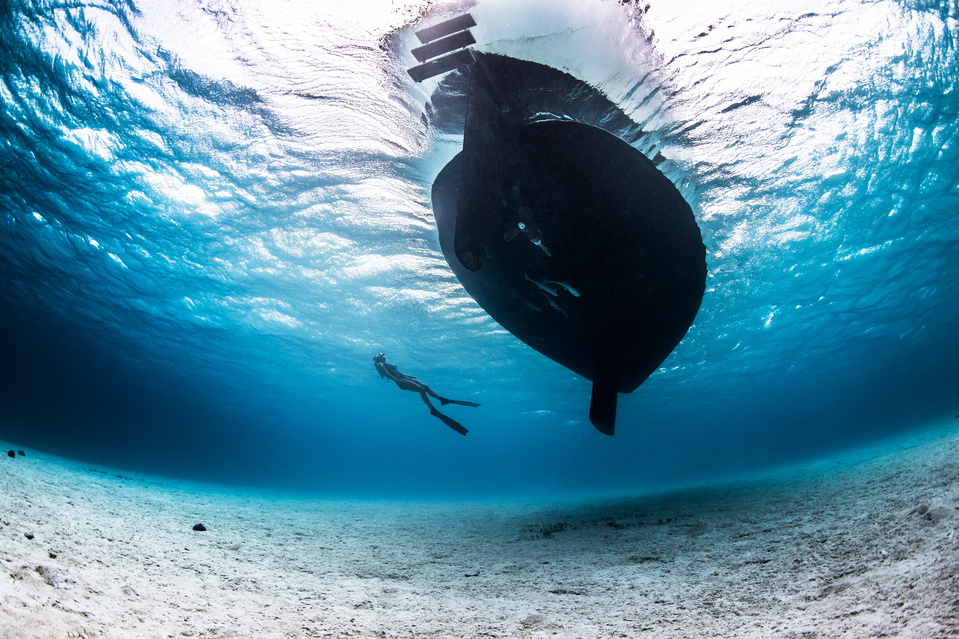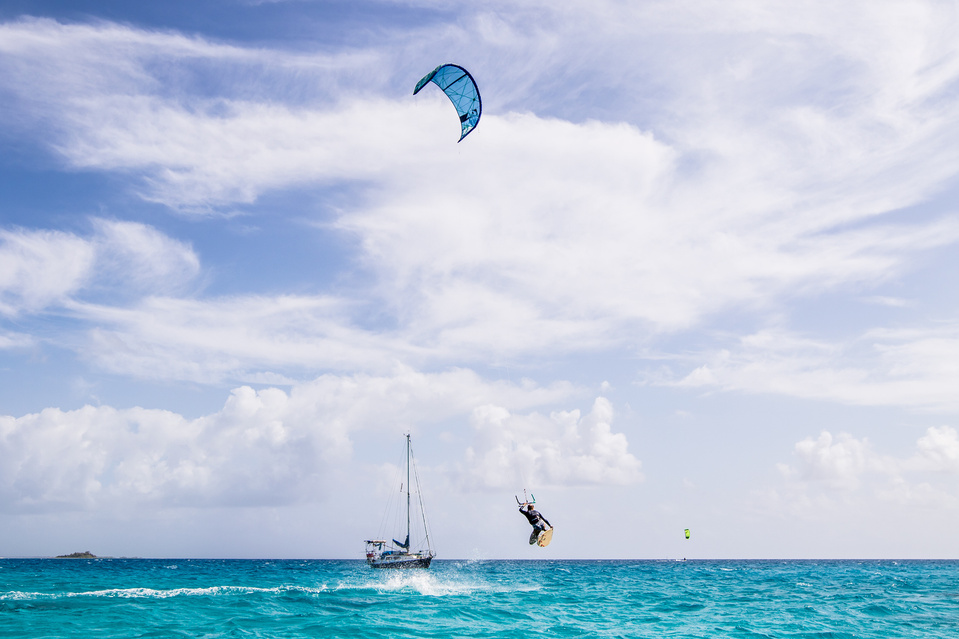 One morning in particular, we met up with our mutual friend from Oahu, Reo Stevens, and the kiting group he was leading. The winds were forecasted to die so his group was going to do a shark scuba dive. Hesitant at first, Melissa told me I needed to do it. I have advanced scuba from years ago and brought my scuba certification cards with me (hands down the worst ID photos I have, I look like a creepy weirdo with an insanely large forehead and very shadowed eyes, I'll show you if you see me in real life).
All of my hesitations floated away as soon as we got to the channel. Our group was positioned at the edge of the drop-off watching as sharks swam by - big ones, small ones, some as big as your head. Shark after shark streamed by like we were in a live action aquarium. Except twist, no windows. And yes, I swam over the edge of the drop-off (sorry, not sorry, Marlin!)…stay tuned for Part III!
Baby Funk doo, doo, doo, doo, doo, doo, Baby Funk doo, doo, doo, doo, doo, doo, Mommy Funk doo, doo, doo, doo, doo, doo…
Dear Reader, that catchy closing line is under construction as the song doesn't have the same get stuck in your head quality as the original or it may endure the test of time, stay tuned, dun dun dun (or should I say doo, doo, doo (nahhh))